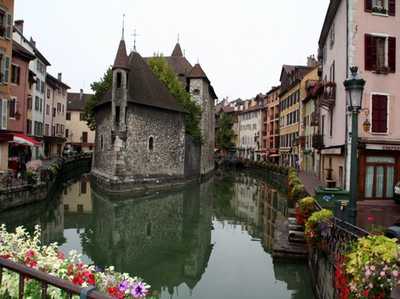 Nicknamed the "Venice of the Alps" for its proximity to the waters of Lake Annecy and the canals
that cross the city, Annecy is classified as an Art and History Agglomeration and invites you
for a moment of pleasure and discovery in the streets of its old town.
In a maze of small cobbled streets lined with 17th century buildings, the architecture of the old town
of Annecy is colorful. Green, pink, yellow, the facades of the houses follow one another
but are not alike to the delight of our admiring eyes.
Despite some destruction in the 18th and 19th centuries, you can discover the uniqueness of
rue Saint-Claire with its arcades under which you will enjoy strolling and enjoying
the town's shopping windows.
The variety of architectural motifs gives the city of Annecy a very special charm steeped in history.
You will discover "The Old Prisons"; this monument holds a place of choice in the heart of the old town.
Located on the Canal de Thiou which bypasses it on both sides, this atypical monument is
one of the most photographed places in the city.
Successively prison, mint, residence, chancellery, administrative hall, courthouse,
Le Palais de l'Île has taken on successive roles throughout history.
It now houses a museum on the history of the region.
Round trip mileage: 18 km